· Bryan Gould ~ Trombone ~ Vocals ~ Bandleader
Bryan Gould is a San Francisco native and the founder of Swing Fever. Bryan has spent the last few decades developing and maintaining the unique musical style that is Swing Fever and endeavoring to provide a living for its players. Bryan's passion for Swing-era music and jazz has kept his intense focus over the years. His love and knowledge of the music is evident from his on-stage anecdotes and jazz history catechisms, and his vocals have added to the band's popularity. For the past 26 years Swing Fever has played Tuesdays night at the beloved Panama Hotel in Marin County, where the band continues to test and expand its repertoire, which at last count was exceeding 1700 songs. Swing Fever keeps a touring schedule of many concerts each year, having played more than 400 concerts during the band's lifetime. Bryan has produced all the Swing Fever CDs, and keeps a Bay Area office for the band, run by the band's Manager of Operation, Paula Helene.
· Denise Perrier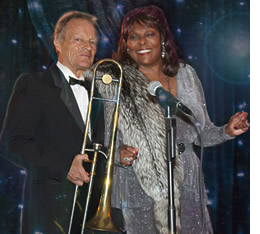 "If you've ever been in love, if you've ever had the blues, Denise Perrier will speak to your heart. She will enrich your soul time and time again."
… Hugh Martin, Composer of "The Trolley Song," "The Boy Next Door" and other hits of the Great American Songbook.
Denise PerrierDenise Perrier a native of Louisiana, has been singing in the San Francisco area for more than 30 years. She has appeared on stage as the legendary Bessie Smith, has sung tributes to Dinah Washington and Duke Ellington. Her many tours have taken her to Hong Kong, Japan and the Philippines. Her recent tour schedule has taken her to Russia for more than 15 tours in four years.
Swing Fever and Denise Perrier have performed since 1994, at countless private events, and more than 100 concert performances throughout the West including two tours in Alaska, and the notable 1999 tour with clarinetist Buddy DeFranco.
Here is what Philip Elwood, the late music critic for the San Francisco Examiner and Chronicle had to say:
"Perrier's work is big, rich, melodic and hits home with a remarkable punch. She has the swirling, dancing, integrating intimacy usually associated with Continental vocalists…Wherever she sings, somehow she makes it her turf — the sign of something special, a real pro. Perrier has the guts of a blues-jazz singer and tile gloss of a cabaret-saloon singer. She'll tackle tough stuff and make it her own, mixing Cole Porter, Fats Waller, Stephen Sondheim and Duke Ellington songs into a set effortlessly. She sings with a soft intimacy in cabarets but can belt out a Bessie Smith blues lyric, in a stage show; Perrier's blues become ballads, the ballads become blues."
Ms. Perrier's critically acclaimed theater production of "Unforgettable," a tribute to Dinah Washington, and musical tributes to Duke Ellington and George Gershwin have received enthusiastic responses from listeners everywhere from San Francisco to Washington, D.C. She performed in the extended San Francisco production of the black vaudevillian musical "One Mo' Time!," at the Mabel Mercer Cabaret Convention at Town Hall in New York City and San Francisco, and with the Smithsonian Duke Ellington Tribute and Exhibition. "Artistic integrity is behind the sincerity you hear in Denise's singing. Denise wants you to feel the emotions a song can arouse. She opens herself to her audiences and invites them to participate in the ambience she's creating. The lady is a class act."
… Nina J. Hodgson and Robert Tate, Jazz Now
· Dean Reilly
On August 8 and 22, of 2006, Swing Fever celebrated the talented and beloved bassist Dean Reilly, "the Dean" of Bay Area bass players, in two special performances, Tuesdays August 8 and August 22, at the Panama Hotel in San Rafael. These performances will featured Dean on the bass and his renowned pocket trumpet, accompanied by Swing Fever, the band in which Dean has played since 1983.
Thirty-eight musicians and 100 other well wishers attended the two evenings.
"Pete Magadini recently. Dean's extraordinary knowledge and musicianship has made him one of the busiest musicians in jazz. Dean is a musical sage, possessing an uncanny recall of the Great American Songbook, which he exhibits on a daily basis and an appreciation of newer artists and material.
His career, which began in 1945, has included notable associations with the Kingston Trio, Eddie Duran, Vince Guaraldi, Cal Tjader, Earl "Fatha" Hines and Wesla Whitfield. Reilly also performed with an illustrious list of musical greats including Bing Crosby, Frank Sinatra, Ella Fitzgerald, BB King, Thelonious Monk, Duke Ellington, Benny Goodman and Rosemary Clooney. He recorded 12 albums with the Kingston Trio (nearly his only foray outside jazz) and nearly 30 albumaltogether. Dean's first Swing Fever CD included saxophonist Noel Jewkes and vocalist Mary Stallings; the second featured Clark Terry and Pee Wee Claybrook — there are five now (all are available through Swing Fever).
Dean Reilly can be heard most first and third Tuesdays with Swing Fever at the Panama Hotel in San Rafael, California. This is one of the most venerable jazz gigs in the Bay Area. Each Tuesday is devoted to a different composer or jazz artist.
Dean Reilly Video One
Dean Reilly Video Two
What follows is an abbreviated list of the artists Dean Reilly has performed or recorded with:
Frank Sinatra
Mel Torme
Duke Ellington
Bill Evans
Vince Guaraldi
Earl "Fatha" Hines
Thelonius Monk
George Shearing
Chet Baker
Benny Goodman
Stan Getz
Johnny Mathis
Carmen McRae
Peggy Lee
Anita O'Day
Herb Ellis
Jim Hall
Barney Kessel
Wes Montgomery
Joe Pass
Kenny Burrell
Teddy Wilson
Benny Barth
Jake Hanna
Philly Joe Jones
Connie Kaye
Grady Tate
Bob Brookmeyer
Eddie Vinson
Cedar Walton
Rosemary Clooney
Bing Crosby
Michael Feinstein
Ella Fitzgerald
BB King
Glen Campbell
Joe Williams
Maurice Chevalier
Mary Stallings
Jon Hendricks
Kingston Trio
Frankie Laine
Benny Carter
Doc Cheatham
Eddie Lockjaw Davis
Harry Edison
Art Farmer
Coleman Hawkins
Max Roach
Clark Terry
Ornette Coleman
Eddie Duran
Jack Sheldon
Kai Winding
Red Norvo
Helen Forest
Eddie Fisher
Connie Haines
Gizelle McKenzie
Rudy Vallee
· Noel Jewkes ~ Saxophone/clarinet
Noel Jewkes is one of the premier saxophone players in Northern California. He has worked in the San Francisco Bay Area for several decades, and has earned a distinguished reputation with lovers of Jazz music. Noel has recorded with John Hendricks, Wesla Whitfield, Mary Stallings, Paula West, Mike Greensill, Lavay Smith, Bobbe Norris, Larry Dunlap, Larry Vuckovich, Pat Yankee and Jerry Hahn, and so many more, as well as his own ensembles.
"I don't know a better contemporary modern saxman anywhere" ~~ Phil Elwood, Jazz critic San Francisco Chronicle/Examiner
· Jeff Massanari ~ Guitar
A native of Goshen, Indiana, in the Amish countryside, Jeff attended the Berklee School of Music in Boston. Since moving to the Bay Area, Jeff has performed with Paula West, Brenda Boykin, Denise Perrier, Kenny Washington, Charles McNeil, Vince Lateano, Jeff Chambers and many others. His skills have been called for at Yoshi's International Jazz House, Davies Symphony Hall, San Jose Jazz Festival, Fillmore Jazz Festival, North Beach Jazz Festival. Internationally Jeff has performed in Japan, Sweden, Finland, Guam and Italy at the Umbria Jazz Festival. Jeff's original compositions have been featured on network television, notably with the "Save the Oceans" program sponsored by environmentally conscious Patagonia. His first four CDs received excellent reviews in Guitar Player and Cadence Magazines. Jeff has been a member of Swing Fever since 2004.
· Tony Johnson ~ Drums
Tony Johnson is a native Australian who came to San Francisco in 1960. He recorded and performed with Pony Poindexter and Bev Kelly for Riverside Records, played The Hungry Eye with Bobby Short, and various other artists. He played on the Ed Sullivan Show with the Vagabonds (of which he was musical director) and with Sammy Davis Jr. Tony has toured with Earl " fatha"="" hines,="" worked="" with="" peggy="" lee="" at="" the="" venetian="" room="" in="" fairmont="" hotel="" and="" was="" a="" member="" of="" house="" band="" hyatt="" regency="" jazz="" concerts="" for="" 5="" 1="" 2="" years.="" he="" toured="" recorded="" claude="" williamson="" trio="" part="" mike="" vax's="" great="" american="" 6="" years.<="" p="">
· Jackie Ryan
Jackie Ryan is "one of the essential female vocalists on the scene today! Her voice is a priceless sonic masterpiece, and her capacity to use it across five octaves and an equal number of languages is, simply put, stunning." – JAZZ NOW Magazine.
A San Francisco Bay Area native, Jackie Ryan has been singing professionally since the age of fifteen. She has toured throughout the U.S., Canada, Australia, Japan, Hawaii, Italy and most recently Spain and England. She has sung with both Eddie Jefferson and Jon Hendricks. Jackie maintains a regular presence in San Francisco nightlife, appearing nowadays at the Ritz Carlton. She has performed for five years with Swing Fever, including the 1999 Monterey Jazz Festival date with Clark Terry and Swing Fever's tour with clarinetist Buddy DeFranco. Along with trumpeter Clark Terry, she is featured on Swing Fever's CD, "A Chicken Ain't Nothin' But a Bird." She will still occasionally join them for a show.
· Ray Loeckle ~ Tenor & Soprano Saxophones, & Flute
Originally from Kansas, Ray played at North Texas State before coming to San Francisco in 1972. Since then he has played with Ella Fitzgerald, Diana Ross, Johnny Mathis, Frank Sinatra, George Burns, Bob Hope, Gladys Knight, Charles Brown, Brian Setzer. He toured with Mel Torme and for 12 years with John Dankworth and Cleo Laine. Ray has been featured in numerous Pops Concerts for the San Francisco Symphony. He has toured and recorded with Buddy DeFranco and Swing Fever, and has been featured saxophonist on numerous Swing Fever concert dates over the past dozen plus years, along with writing many of the band's current arrangements.
· Ruth Davies ~ Bass
Ruth Davies has a Bay Area career spanning more than 30 years and with Swing Fever since 1997. Starting life with a music teacher Mom, inspiring her to earn a BA in music, she continues the teaching tradition by bringing music to public schools and is on the faculty of the Stanford Jazz Workshop. Ruth has performed, toured and recorded with jazz and blues greats, that include Charles Brown, Clark Terry, Bonnie Raitt, Dmitri Metheny, Jay McShann, John Lee Hooker, Van Morrison, Terry Gibbs, Etta Jones, Jackie Ryan, Toots Thielmans, Ernie Watts, Buddy DeFranco, to name a few. She performed at Bill Clinton's Inaugural, and has done concerts, TV and many major Jazz Festivals around the world. Ruth was spotlighted at a successful "Ruth Davies Blues Night" at the Stanford Jazz Festival. The S.F. Symphony's "Adventures in Music" program and the "Just Say Jazz" project exhibit her commitment to delivering music education to the classroom.
· Steve Campos ~ Trumpet
Steve Campos played with Stan Kenton for three years and has had numerous engagements with Woody Herman, Joe Henderson, Benny Carter, Buddy Rich, Ella Fitzgerald, Mel Torme and Dr. John. Except for touring, he has spent nearly all his playing years in the Bay Area.
· Richard Saunders (1999) ~ Bass (acoustic, electric)
Played with Country Joe and the Fish, Eddie Jefferson, Richie Cole, Freddie Hubbard, Joe Henderson, Pickle Family Circus, and SF Mime Troupe. Recorded with Country Joe and the Fish, The Cleanliness and Godliness Skiffle Band and Jessica Williams.
· Ron Marabuto ~ Drums
Ron Marabuto is a native of the East Bay and son of the famous and beloved pianist John Marabuto. Ron played in New York City from 1977-86 with Pepper Adams, Roland Hanna, Tommy Flanagan and many others. Since returning home he has performed with many local favorites, including Buddy Montgomery, Mark Levine, Steve Lucky, Dave Mathews and Bruce Forman. He has led several of his own bands, including XnY. Ron has played with Swing Fever over the past 12 years.